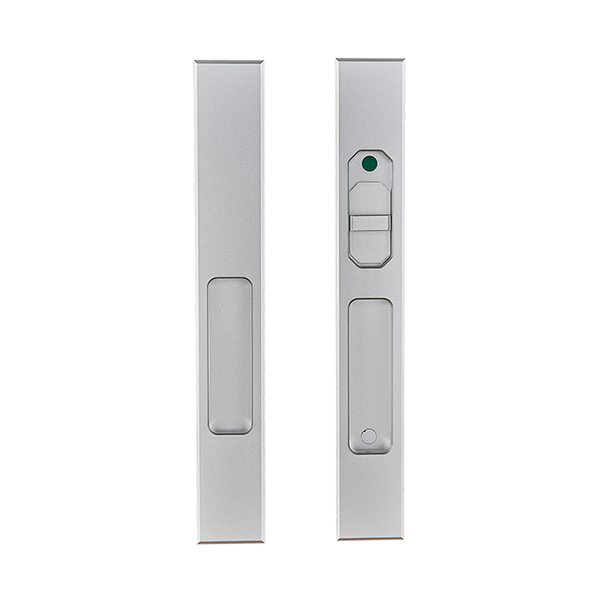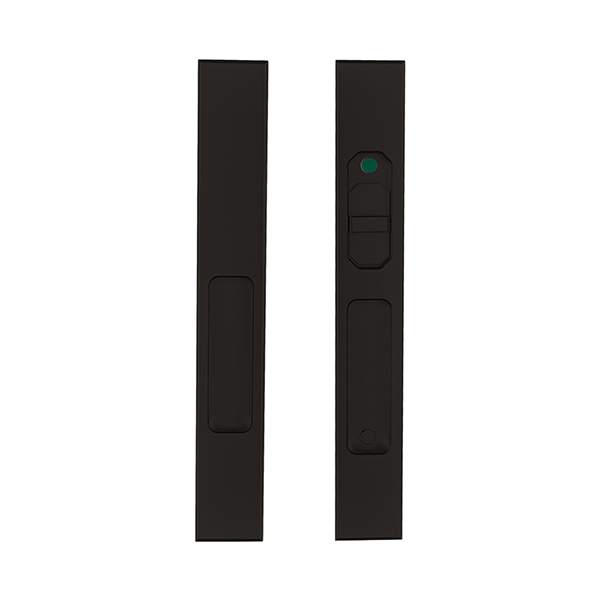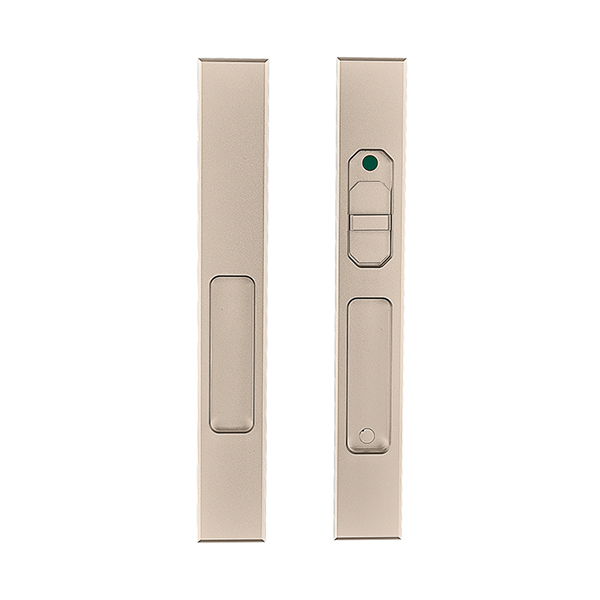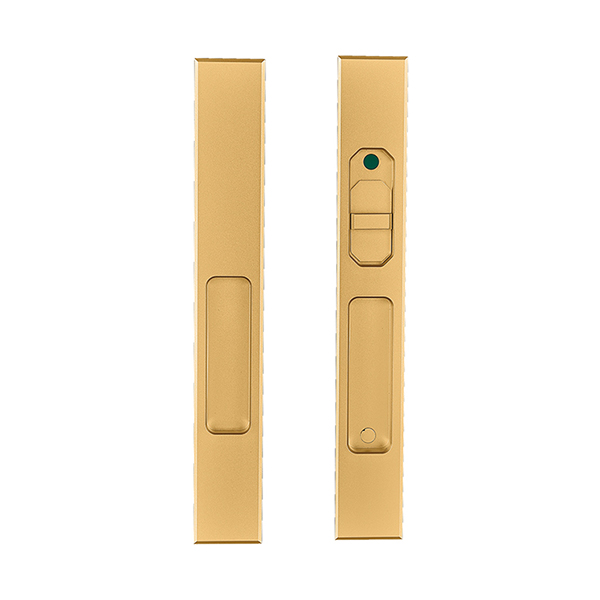 Sliding Door Lock BY-2822
Product Name: Double-sided One-word Lock
Colour: silver oxide, gold oxide, black oxide, copper oxide
Material: Aluminum alloy
Installation door thickness: 35-50 (mm)
Scope of application: Suitable for heavy sliding doors and sling doors
Firm and comfortable, in line with ergonomic design principles: clear lines and diamonds, smooth surface feel
PRODUCT Description
Description
Novelty design, switch using lever principle, open more smoothly and lightly, open and close voice is small
The raw materials are made of high quality 6063 Aluminium Alloy profiles, integrated extrusion, high precision CNC processing and high safety performance.
Surface anodic oxidation treatment; film grade up to AA15; corrosion resistance, long-term use luster as new
By-2822 red and green dot shows opening and closing, which fits the user's feeling when using in a simpler way. Through the anodizing technology, the delicate and frosted metal texture can really make the user feel the charm from the aluminum alloy push-pull lock. Sliding door lock manufacturer truly meets the requirements of users for large push-pull door locks. A good heavy-duty push-pull door lock will make people love it very much. With groove switch setting to increase friction. More comfortable to use. Good push-pull door lock is very important for a door and window hardware. This is an era of brand competition and technological innovation. For an enterprise, technological R & D and technological innovation are always the core forces of enterprise development. Sliding door lock supplier wholesale has more say in the market. After 150000 times of opening and closing, it is still in normal use. It monitors the whole process of oxidation process and quality, non general anodizing process, salt spray test 960 hours, Grade 8 standard; UV aging test 300 hours, color difference grade 1.
Sliding glass doors are quite possibly the most regularly supplanted inside doors in homes. Since they are so famous, they are dependent upon many kinds of issues and the most widely recognized is the spat of the sliding door lock. One of the main things you should do if your sliding door lock parts drop out is to return into your home and search for the issue. This might be a troublesome undertaking in case there is definitely not an accessible passageway on the house that will permit you admittance to the side of your home.
There are a few things you can do when your sliding door lock parts wear out or you discover them missing. In the event that you have another door, you can have a go at putting a lock that is the very size as the one that dropped out and check whether you can make it work. On the off chance that this doesn't work, you need to get another sliding door lock to keep your family protected. Luckily, there are various sliding door lock parts that are accessible so you will actually want to supplant any wrecked locks in your home.
Quite possibly the most well-known sliding door lock parts that individuals attempt to fix is the key chamber. The most ideal approach to keep a critical chamber fit as a fiddle is to ensure that it isn't dropped or lost. There are some ways that you can secure your critical chamber also including putting it inside your Casement door. On the off chance that you have a hard core Casement door, all things considered, it has a vital opening as an afterthought that will permit you to put a key in the side without agonizing over it being taken. Hence, you ought to consistently keep your vital chamber in a protected place and be cautious with it.
On the off chance that you have an old casement door that needs another lock, you ought to consider buying an aluminum amalgam lock. These are solid and will give preferred security over a customary wooden lock. They are accessible at many home improvement stores. On the off chance that you feel that you might want a more tweaked choice, you can discover aluminum combination sliding locks specially made also. Simply know that these will commonly cost more cash and may take more time to introduce.
A significant piece of keeping up with your sliding glass door lock is to check the oil of the sliding door lock. On the off chance that your lock turns out to be excessively dry, it will be extremely difficult to slide the door open. This can make it become stuck or even tumble down. Likewise, an excessively dry lock will likewise destroy all the more rapidly because of the grating between the moving parts. Make certain to consistently grease up your lock as per the producer's determinations.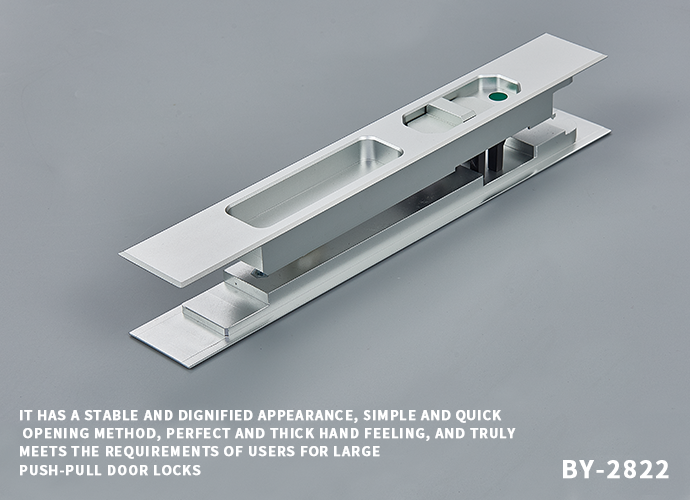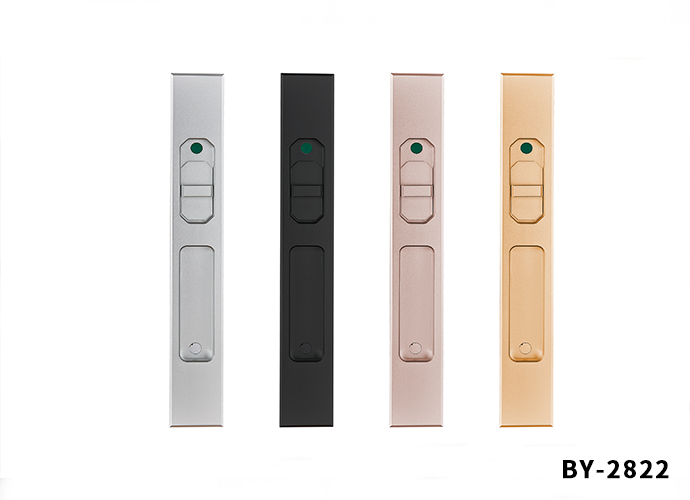 You need a quality house lock set when you are trying to protect your home from unwanted intruders. A lock system can work for both residential and commercial applications. The most popular type of security systems these days is the combination lock, which comes in either key-operated or keyless models. Security experts recommend the latter, because you will not have to work too hard to get into the house in the event of an emergency. It is also a lot more convenient than having to get your key from your pocket or car keys.
With a good door lock, you will be able to make sure that no one gets in without permission. There are several factors that you have to keep in mind if you want to choose the best door locks. You should be able to find out if the door locks are effective through the use of a professional. You can do this by asking around at security shops, home improvement stores, and locksmith shops. You may even be able to talk to people who have already purchased these products to get their recommendation on the best companies and the most reliable locksmiths in your area.
Your chosen door lock supplier should be able to install the system for you. It should also have a license number which will allow it to sell the door locks. The supplier should also be able to offer installation services to its clients so that you do not have to bother yourself doing this. It would be advisable, though if you were to do it yourself so that you can ensure that it will work properly.
Look for a company that offers house lock sets from well-known manufacturers. These lock manufacturers have been in the locksmith business for many years and they have the skills to provide high quality products. They are always improving on their security equipment so you can be assured that your new door lock set will be more effective than the previous one. In addition, they also offer a guarantee on their products so you do not have to waste money if you decide to cancel the transaction.
There are many companies that offer door lock sets but you should make sure that the ones you are considering offering a warranty on the products. This way, you will be able to have peace of mind if something happens with your house lock set. A good warranty also shows that the manufacturer has faith on their product. A house lock set from a manufacturer that does not offer a warranty is usually a sign that they are not serious about the security of their product and it could mean that you should look elsewhere.
The prices of door locks vary depending on the type of materials used. For example, a steel door lock would obviously be more expensive than a wood composite door lock. Locksets with nickel or brass handles are also more expensive than those that use plastic or aluminum. The advantage of having a cheaper door lock set is that you can be sure that your family's safety is in good hands.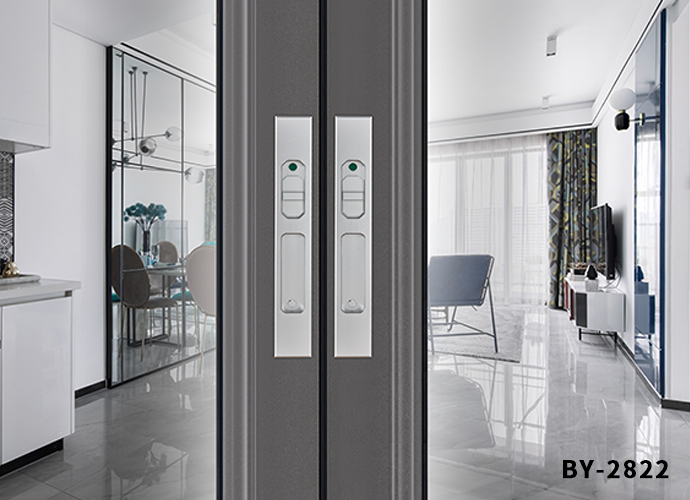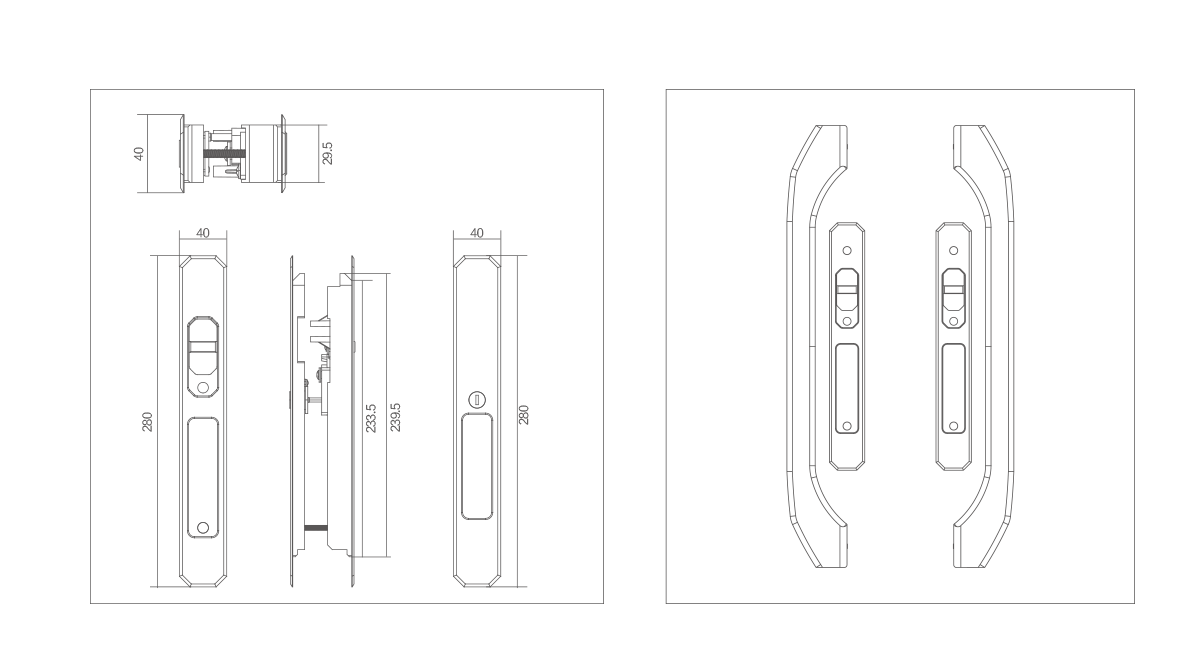 If you're looking for aluminium door handle suppliers, it's important to find the right one. The wrong aluminium door handle can completely ruin a new project. Door handles are heavy and difficult to transport, so they should be chosen with care. You also need to ensure that you work with a company that will provide excellent after sales service, should anything go wrong. You can check online for aluminium door handle suppliers or ask your local home improvement store for recommendations. Once you start looking around, you'll find that there are many choices out there.
Aluminium door handle suppliers typically sell single handles, doubles, or sets of two handles. Which kind you choose depends largely on your requirements. If you're just replacing an existing door handle with something brand new, then you may be able to use a single aluminium handle. However, double handles are usually heavier and require two aluminium doors to open up. So how do you figure out which one is right for you?
There are some factors to consider when choosing aluminium door handle suppliers. Do you need a thick aluminium door handle? Is it important that the handles match in style? Are you hoping to make your home look unique? All these things are important when choosing the right supplier for you.
Before deciding on the company to buy from, you'll need to take into consideration the type of aluminium used to create the door. Aluminium is an excellent choice because this material has a wide range of uses. It's strong and flexible, but is also incredibly easy to work with. It is virtually impossible for you to break aluminium, so it is a great choice for a lot of people. If you're looking for a very durable and dependable product, then this could be the perfect company for you.
When you're shopping around, make sure you know what the company offers. Many suppliers offer different types of aluminium door handle, so you'll want to choose a company that offers both. Look for a company that can give you a large variety of aluminium door handles so you are able to choose exactly the style you want. It's also a good idea to ask if they have any special deals or offers on the day that you decide to purchase. If a company runs promotions, then it's almost always a good idea to take advantage of them.
It's always a good idea to visit a few aluminium door handle suppliers before deciding on which one to get. You should visit at least three, as that will give you a better idea of how much each company charges for their products. The more you shop around, the better chance you'll have of finding a great deal. Once you've decided on a company to buy from, remember to follow through on your decision. Always make sure that you measure the door before buying it, and always follow through on your warranty to ensure that you are completely satisfied with your purchase. If you take care of your investment correctly, it'll last for years to come.
contact us


Foshan Baogao Aluminum Door and Window Accessories Co., Ltd.
We provide customers with quality products and services.
If you would like to leave us a comment please go to contact us
© 2021 Foshan BOGO Aluminum Door and Window Accessories CO., LTD All rights received