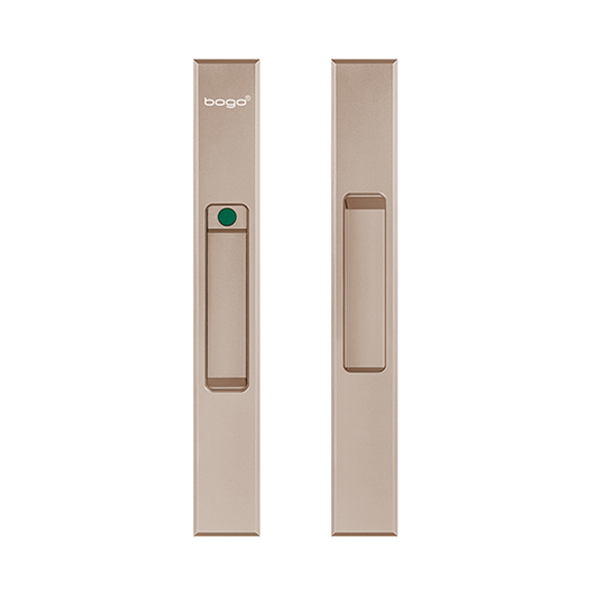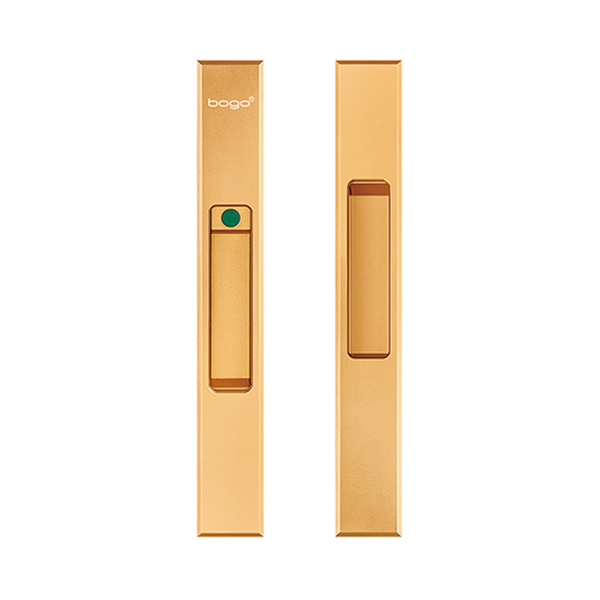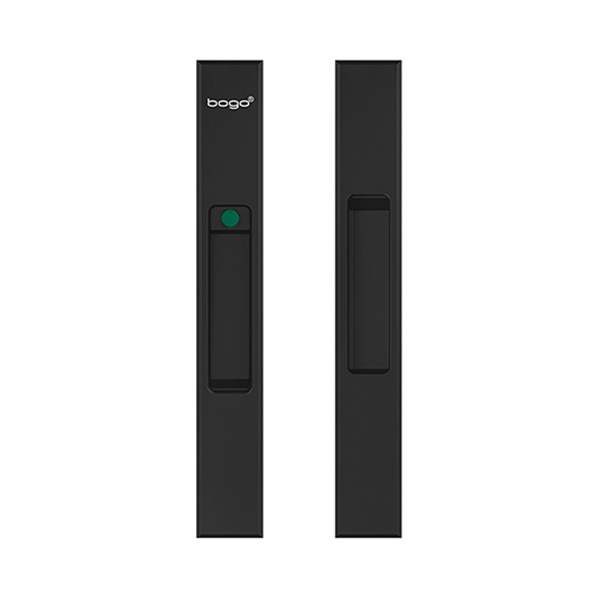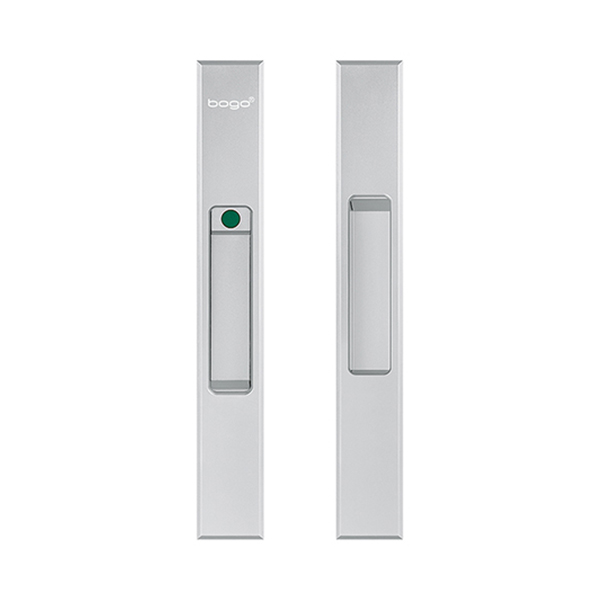 Sliding Door Lock BR-332
Product Name: Double-sided One-word Lock
Colour: silver oxide, gold oxide, black oxide, copper oxide
Material: Aluminum alloy
Installation door thickness: 28-40 (mm)
Scope of application: Suitable for heavy sliding doors and sling doors
Firm and comfortable, in line with ergonomic design principles: clear lines and diamonds, smooth surface feel
PRODUCT Description
Description
Novelty design, switch using lever principle, open more smoothly and lightly, open and close voice is small. The raw materials are made of high quality 6063 Aluminium Alloy profiles, integrated extrusion, high precision CNC processing and high safety performance. Surface anodic oxidation treatment; film grade up to AA15; corrosion resistance, long-term use luster as new.
Simplification of complex elements is a higher level embodiment of design,. BOGO hardware · Baorui series one word lock will be simplified. The minimalist design concept runs through the whole product and hides the rich connotation under the simple appearance. Break through the traditional design, carve out every process and detail, and create a unique BOGO hardware product sliding door lock parts. Its products are anti-aging through multi-layer process, fine sand blasting, comfortable switch handle, small opening and closing force, smooth operation, and self dropping function, and can also be equipped with ET key function. It adopts high-quality 6063 aluminum alloy profile, which is hard to deform; it is processed and manufactured by CNC machine, with integrated die-casting, with high processing precision and strong safety performance; BOGO hardware sliding door lock supplier whole sale selects and adheres to the use of high-quality materials, perfect and fine process control, so that excellent design can be realized. And through rigorous quality testing, make every product more perfect.
A sliding glass door handle set with non-keyed interlocking retaining slides is a great investment for anyone who has an aging sliding glass door and needs a reliable replacement. Replacements are easy to find, as these are typically available through a sliding glass door store that offers a reseller program. If your sliding glass door is ten years old or more, you should consider upgrading to a brand new system. With the cost of replacement glass sliding doors on the rise, this is a wise decision. Keyed locks have been the standard for sliding glass door openers for many years, but they are becoming obsolete as newer, more secure locking systems are developed.
The most secure locking system for sliding glass doors is a keyed internal locking system, sometimes referred to as "non-keyed" interlocking. This type of locking system does not require a key. It uses two keys: one key is used to open the door and another is held by the deadbolt. These locks can be opened by inserting the keyhole key into the key slot, by turning the knob, or by simply pulling out the bolt or knob. These types of systems use two keys, making it less vulnerable to forced entry. However, if a homeowner is using a pre-aged, deadbolt door knob, it is still possible for an unauthorized person to enter the home by kicking in the door, since the deadbolt cannot be locked from the outside.
A keyed internal lock sliding glass door handle set with non-keyed interlocking slides is more secure than its keyed counterpart. These sets do require a key, but they are much more difficult to open from the outside, making them much more secure than a traditional lockset. Also, because this type of door handle set is more secure, homeowners often use more than one key, providing peace of mind that no one can quickly gain access to the property.
One final sliding glass door lock set feature is a magnetic lock. These sets, which may also include keyed or non-keyed varieties, contain a magnetic strip that runs across the interior surface of the glass door. When a person tries to open the door, the magnetic strip will make an electronic magnetic charge that locks the door. Although this system is most effective when used in wet areas such as bathrooms, it is also found in some residential door closers.
Some sliding glass door sets are designed so that the interior surface of the glass is textured. These textured glass doors, which may also include cutouts, can be installed over many types of non-slip paint or vinyl floors, providing additional security and safety to the occupants of the home. The textured glass allows an individual to control the amount of traction on the floor, which is beneficial if someone has something like a pet or small children who may try to pull down the glass.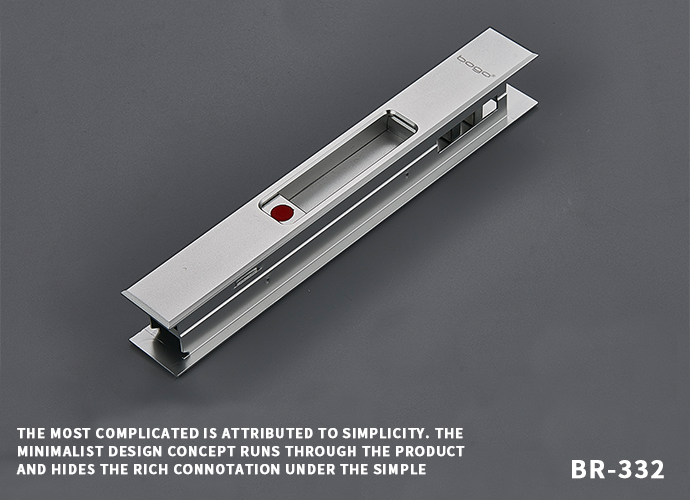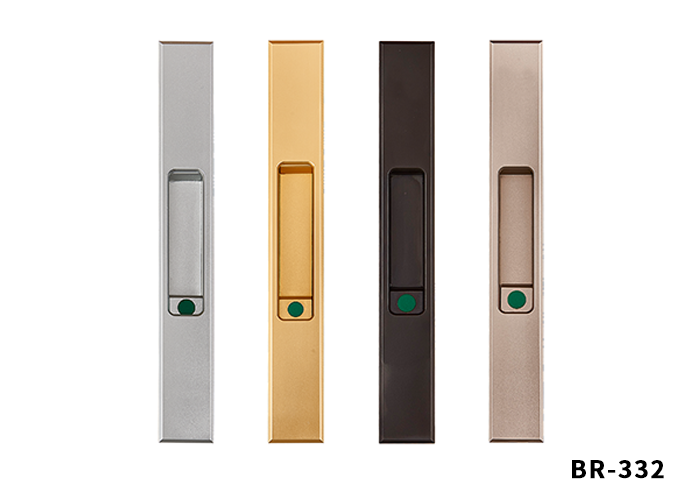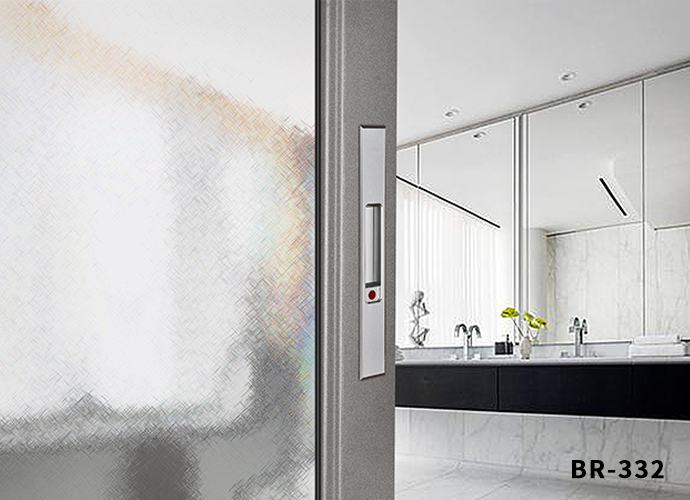 contact us


Foshan Baogao Aluminum Door and Window Accessories Co., Ltd.
We provide customers with quality products and services.
If you would like to leave us a comment please go to contact us
© 2021 Foshan BOGO Aluminum Door and Window Accessories CO., LTD All rights received